Lockdown was
here.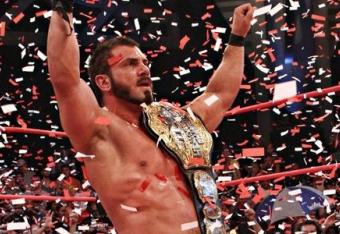 TNA Title: Austin Aries d. AJ Styles
X: Bobby Roode d. RVD
Tags: Tex Mex d. Dudleys
Kurt Angle d. Samoa Joe
Chris Daniels d. Frankie Kazarian
Ken Kennedy (w/Burke) d. Abyss
Jeff Hardy d. Kid Kash
Crimson/Garrett Bischoff d. Robby E/Robby T
Slammiversary is the big event on Counterfactual TNA's calendar; let's start at the bottom - Crimson and Matt Morgan are in an endless, awful feud; after Crimson/Bischoff win here, they are stomped out by Morgan/Magnus - that is broken up by the agents, DLo and Al Snow, Snow and Magnus wind up in a shoving match. The defining element of Counterfactual Jeff Hardy's character is he's never won a singles belt, spending the past several years coming up painfully short - and now he's finally snapped; Kash comes in as old friend of RVD (Van Dam gets him the job) Jeff and Van Dam were tag champs but they fell apart at the last show; Jeff takes incredible insult at Kash, who gives off a real down and out vibe, comparing the two of them - just two old high flyers trying to get by - and Jeff goes full heel here, beating Kash, flipping off the fans - and then, in the next match, he assists Ken Kennedy (of the heel tag team Future Endeavors) in beating Abyss. That loss causes Abyss to disappear, and he will eventually be searched for by a man purporting to be his brother Joseph. Daniels and Kazarian are veteran babyfaces doing a 50/50 program; Joe is a Horseman (Roode/Williams) and they end careers (Jarrett, Sting, Flair, the Machine Guns) Angle has just lost a feud to Aries and appears ripe for the picking; Joe says he's going to put Angle's pelt up on his wall - but he doesn't, Angle goes over. Tex Mex takes the tag title from the Dudleys, this is a babyface match - Bubba just turned face from his real life Bully Ray character to rejoin old partner Devon in a last ride sort of a program - they're challenged by Storm/Hernandez with the idea being that Bubba and Storm are competing to see who is the greatest tag wrestler who ever lived (Bubba's been champ with a total of 3 partners across all promotions, Storm's a 5 time TNA Tag Champ). Tex Mex goes over. When Roode keeps his X belt over RVD that means he'll go into BFG as champ for a year; no one has ever held the X belt for more than a year, so that's the built in angle to come - Future Endeavors, now led by Jeff, attack RVD postmatch. And in the main - dickish heel Aries who has been telling everyone that it was his time in TNA; his time to claim his spot as World Champion - does just that.
Real World Final Resolution will mean Counterfactual BFG - your main event is (most likely) an Aries/Styles rematch.