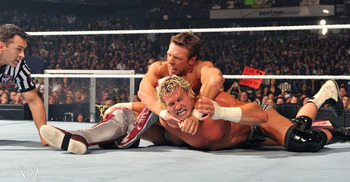 WWF 100
2012 Royal Rumble – St Louis
(Dark: Kings of Wrestling d. Black/Ambrose)
We open with the ECW theme – and out comes former WWF color commentator/manager Paul Heyman, he goes to the broadcast table, puts on the headphones, joining Joey/JR at the broadcast, he says "did you miss me?" – and we're off.
Throughout the evening Heyman's less a heel than he is just Paul Heyman, he has a keen interest in GDI; when Punk's match comes, he'll remind us that Punk wound up as the last holder of a title belt that he has some passing interest in, the ECW Title; and when the title match comes he'll say any man who has the balls to call himself the Best Wrestler in the World in front of "this group" gets his attention.
Who is this group?
So, there's a section of the floor seats blocked off, and it's about to be filled in by the 200 WWF wrestlers/announcers/managers/valets from WWF PPV history who are here tonight to celebrate WWF 100. They'll come out in 3 blocks.
The only man to work all 100 WWF PPVs, ring announcer Howard Finkel introduces the two people who will greet everyone as they are introduced and come to their section – WWF Commissioner Mick Foley and the junior Senator from the great state of Connecticut, the Honorable Linda McMahon.
Foley and Linda enter – Linda hit the ground hard, first sponsoring a tax reform bill based on her "tax millionaires" campaign pledge, and currently spearheading a large stimulus package aimed at "rebuilding infrastructure"; between her work and World Wildlife Fund CEO Vince McMahon's tireless work with the United Nations to reverse climate change, the McMahons are at their height of global respect.
The announce explains to us that WWF has given all of the former title holders who are here tonight championship belts commemorating their highest earned WWF or NWA or ECW Title (as they have control over all of those histories and belts, and because it facilitates some ECW Title talk from Heyman) and the former Triple Crown Winners will receive newly crafted gold medals. So as each person enters, if he was a title holder that's noted.
Howard begins by introducing the distinguished guests….From the 1980s…
1.

Governor Jesse Ventura
7.

WWF Tag Champ Mike Rotundo
8.

NWA Tag Champ Mr Wonderful Paul Orndorff
10.

WWF Tag Champ Brutus Beefcake
11.

WWF Tag Champ Nikolai Volkoff
12.

WWF Tag Champ Iron Sheik
13.

IC Champ Rowdy Roddy Piper
14.

IC Champ Greg The Hammer Valentine
15.

US Champ Barry Windham
16.

Triple Crown Winner Ricky the Dragon Steamboat (even though he's the head of GDI, Steamboat sits with the former wrestlers all evening)
17.

WWF Champ Dynamite Kid (Dynamite's first WWF appearance in a quarter century, he needs aid to walk, the next two men enter with him)
18.

Triple Crown Winner Bret Hit Man Hart
19.

Tag Team Champ Jim the Anvil Neidhart (Steamboat and Dynamite shake hands, their war set the pace for the modern WWF)
22.

IC Champ The Magnificent Don Muraco
23.

Tag Team Champ Jake the Snake Roberts
25.

NWA Champ Dory Funk, Jr.
26.

WWF Champ Bruno Sammartino (Bruno's first WWF appearance in a quarter century)
27.

NWA Champ Handsome Harley Race
28.

WWF Tag Champ Rick The Model Martel
29.

WWF Tag Champ Jacques Rougeau
30.

WWF Tag Champ Ray Rougeau
34.

WWF Tag Champ Ted DiBiase
38.

Bobby The Brain Heenan (Heenan gets aid from the Brainbusters in making his way to his seat)
39.

US Champ Arn Anderson
40.

US Champ Tully Blanchard
41.

WWF Tag Champ Marty Jannetty
42.

Triple Crown Winner Shawn Michaels
43.

NWA Tag Champ The Warlord
46.

NWA Champ The American Dream Dusty Rhodes
Here are the first two matches:
1.

Colons d. Mark Henry/Santino
2.

Cage: Ka$h Kingston d. @TruthKills
In some sense, each match plays to the wrestlers in the crowd – so, the opening tag is a real formula, the Colons are the small quick tagging guys, Santino's a freak and Henry's a powerhouse. The Colons cheat to win, an angry Henry then his some monster powermoves on both Colons that gets approval of the other monster wrestlers.
Then the blow off to the Young Money feud; it's an escape or pinfall stip – Killings is down, Kingston climbs to the top – but instead of climbing out points to Snuka and hits the top of the cage splash and gets the pinfall.
Fink returns to introduce the returnees from the 1990s…
51.

WWF Tag Champ Pat Tanaka
52.

WWF Tag Champ Paul Diamond
54.

NWA Champ The Franchise Shane Douglas
55.

WWF Tag Champ Dustin Rhodes
56.

WWF Tag Champ Road Warrior Animal
57.

US Champ Sgt Slaughter
59.

NWA Tag Champ Brian Knobbs
60.

NWA Tag Champ Jerry Sags
68.

WWF Tag Champ Rick Steiner
69.

WWF Tag Champ Scott Steiner
72.

WWF Tag Champ Lex Luger
73.

WWF Tag Champ The Undertaker
76.

IC Champ Sean Waltman
78.

WWF Tag Champ Billy Gunn
79.

WWF Tag Champ Bart Gunn
84.

NWA Tag Champ Ricky Morton
85.

NWA Tag Champ Robert Gibson
86.

WWF Tag Champ Road Dogg
87.

WWF Champ Bob Backlund
94.

WWF Tag Champ Carl Ouellete
98.

ECW Tag Champ Justin Credible
99.

NFL Hall of Famer Lawrence Taylor
104.

IC Champ Hunter Hearst Helmsley-McMahon
107.

Duke The Dumpster Droese
109.

Triple Crown Winner Stone Cold Steve Austin
111.

World Wildlife Fund CEO Vince McMahon
116.

WWF Tag Champ Marc Mero
117.

US Champ 2 Cold Scorpio
119.

Hector Garza (Garza will need aid to make it to his seat by the rest of the luchadores)
125.

Vickie Guerrero (Dos Caras and Vickie jumped the line to move into this decade, but they wanted to enter with Mascaras to symbolize their family commitment)
127.

IC Champ Ken Shamrock
128.

Dan The Beast Severn
130.

WWF Tag Champ GHB Bradshaw
139.

IC Champ Steve Regal (like Steamboat, Regal sits with the wrestlers)
140.

Triple Crown Winner Edge (Edge's first appearance since Mania)
141.

WWF Tag Champ Christian
142.

WWF Tag Champ Matt Hardy
147.

Albert (Albert does not get as much reaction as his Giant Bernard credentials would warrant)
148.

TV Champ Stevie Richards, Esquire.
149.

WWF Champ Ric Flair (Flair's the only TNA guy used here and it's because he worked Hall of Fame and Mania)
3.

No DQ: Yoshi Tatsu d. Heath Slater
4.

Jack Swagger d. McIntyre
-Tatsu/Slater is designed as a 90s style collision match; ladders and a table – Sydal and Ryder both are involved in an "ECW-anything goes" type of way; Michael Cole takes a bump – this is the blow off to this feud, one that's been really one sided favoring Underground, so it's a pretty definitive win for Tatsu and GDI. Slater/Ryder should need to be scraped off the mat.
-The serious minded returnees express an interest in seeing Swagger; here's a guy positioned as the next Kurt Angle, the future of the sport, and Division One became the finest tag team in recent memory – but injuries and then an attack by his former partner and all of Underground have really taken him out of the game. Here he taps McIntryre really quickly, refusing to release the hold all the way until almost DQ'd for it.
Here's the last group - the 2000s
150.

NWA Champ Dean Malenko
151.

US Champ Perry Saturn
153.

ECW Tag Champ Spike Dudley
158.

US Champ Lance Storm (last member of the Harts who you'll see; so there will be photos of he, Bret/Anvil/Dynamite
160.

IC Champ Shane Helms
161.

Tag Champ Tommy Dreamer
163.

Triple Crown Winner Rey Mysterio (last TC winner for the night, so all the TC winners will be in a photo, Bret/Shawn/Austin/Foley/Edge/Rey
164.

US Champ Jamie Noble
165.

US Champ Billy Kidman
166.

WWF Tag Champ Charlie Haas
167.

WWF Champ Shelton Benjamin
171.

NWA Tag Champ Bill Goldberg
180.

NWA Tag Champ Shannon Moore
181.

NWA Champ Johnny Nitro
186.

WWF Tag Champ Carlito Colon
188.

ECW Tag Champ Super Nova
192.

NWA Champ Fit Finlay (Fit will openly root for Underground, following this show he will become Head Trainer for the current trainees Underground, like Sandow, Ryback, Langston, and both Rotundos – while Regal manages the guys on the main roster)
197.

The Alpha Male Monte Brown
198.

WWF Tag Champ The Sidekick Trevor Murdoch
-If there's one group who heels Punk, who won't ever get over his throwing down the WWF Title belt, it's a group of former wrestlers who never won the WWF Title – Punk walks right up into it, holding three fingers in the air after his introduction to symbolize his 3 WWF Title wins. The last two returnees, Low Ki and Maria, just add to the discomfort – Low Ki was kicked out of GDI and this is Maria's first appearance since she left WWF, first appearance since she did Apprentice, first appearance since she returned to ROH with new boyfriend Mike Bennett, so now Punk and Maria are storyline no longer together – when you add Fit, whose WWF career was ended by Punk – it is a hostile, loud, group in opposition to Punk.
Cena' "Mr WWF" gimmick feeds right into that – in a reversal of their real world match in Chicago, this group of fans almost wills the underdog Cena to score the monumental upset, beating Punk cleanly in the best possible match they can have. It is designed to be a tough, embarrassing loss for Punk and to give something else for the returnees to explode about. Heyman is tough on Punk on the announce, "this is the guy who owns my belt?"
6.

WWF Tag Titles: Defiance d. Empire d. Lawler/Booker
-Empire, like Young Money and D1 before them, is just one win away from holding the tag belts for a year, the official men in the match are Barrett/Gabriel – Gabriel's masked and Riley also appears as they attempt to do the switch. Lawler/Booker, as the veterans working the show, get the big reaction from the returnees, and there are some false finishes that give hope they will take the straps (it's one fall to a finish). Defiance, with both men (Orton/Cody) as legacy guys, also get a lot of good response from the returnees.
The important spot comes on the ramp – Empire's made an extra match switch and now both men have masks on as Barrett runs up the ramp – waving at the curtain to get help, presumably from the remaining Douchebags, but instead who comes through the curtain is the Rock (the last time we saw him he was getting wiped out by Nemeth/Sheamus/Barrett) he nails Barrett with his WWF Tag Title belt (not Barrett's belt, the Rock's belt, like the other returnees) – Barrett staggers and Rock hits him with a Rock Bottom right off the ramp. It's designed to be a death blow, as Barrett's gonna be gone awhile. Rock holds his belt up in salute to the other returnees and then disappears behind the curtain.
The finish comes soon, RKO pinfall on Riley – Gabriel escapes leaving Riley alone to take a Golden Goal to the head – the returnees cheer for Defiance, everyone cheers for Defiance – which ends quickly when Orton/Cody then wipe out Booker/Lawler postmatch, they aren't babyfaces, they're heels – and they punctuate it with a Golden Goal that ends Jerry Lawler's wrestling career. We have a tag switch – this is Orton's third belt with three different partners.
-Sheamus is the Clique Killer, having ended the careers of Edge/Christian/Nitro – he goes clean over the last member standing, Miz, ensuring he'll go into Mania as IC Champ for a full year. The remaining members of Underground (Reks, Hawkins, Barretta, Kidd, Ambrose, Black) don't wait for an invitation, they strut their way to the ring to aid Sheamus in sending Miz into the ringpost shoulder first. As promised – Underground is going to finish burying the Clique tonight at WWF 100.
Shawn Michaels enters the ring. He stands in front of the ringpost – but he's not there to save Miz, he convinces Sheamus – Miz and Nitro turned on him almost two years previous, Shawn's not there to save Miz – Shawn wants the last word – Shawn wants to kill the Clique.
Barretta and Hawkins hold Miz up, Shawn readies the superkick – and then he kicks Barretta's head off.
Sheamus smiles – perhaps he wasn't fooled at all – perhaps this is a fight Sheamus wants, but there's no time for that speculation now, as Underground attacks.
Quickly into the ring are Hall/Nash/Waltman – Clique Emeritus gets a quick advantage but then Underground, with superior numbers and an age advantage "what I see in this ring, JR, are young, hungry, athletes" says Heyman, retake control – that brings into the ring the Outlaws and London – and then Edge/Christian/Nitro, all 3 men still selling career ending injuries, so they aren't doing anything but one armed punching. Still, the huge numbers advantage now is enough that Fit hops over the barrier himself to tell Sheamus to get out of the ring in the chaos – he begrudgingly does – the remaining Underground quickly falls away – the final spot is Tyler Reks all by himself, trapped, taking everyone's finisher (that wraps up Reks). Trish and Tammy join the ring – the full Clique (as promised) together for the first and presumably last time – each doing the handsign.
8.

WWF Title: Bryan Danielson d. Nick Nemeth (w/Kelly)
-So, when the WWF Title match comes, all of Underground is gone. It's Nemeth meeting Danielson one on one for the belt.
The only bit of storytelling beyond their having the very best match they can possibly have, is a spot where Regal leans over the retaining barrier at an unsuspecting Danielson in an outside spot and takes a shot at him. Regal is then shoved by Steamboat – and that leads to a few minutes of brawling among all of the returnees; they spill out onto the floor, they fight in the crowd (they don't go in the ring) it's a few minutes of full chaos; pick whichever matchup it is you'd like to watch – I'd like the screen to have an NFL Redzone inspired Quadbox – (hey look, Funk just hit Foley; Raven just hit Dreamer; Low Ki and Taka are kicking each other – I can't think of all the possibilities, if you want to see Flair chop Dusty one more time, go nuts). It's no more than a five minute spot; just enough so it adds to the flavor of the night, provides another moment to remember from WWF 100, but not enough so anyone looks silly although I bet guys would fight over who got to sell a punch for Bruno).
It calms down and now the returnees are essentially surrounding the ring for the nearfall sequence and then for Danielson winning the belt with Cattle Mutilation.
GDI hits the ring, Steamboat included, as Foley enters to hand Danielson the belt – the returnees applaud, acknowledging the match and the new Champ – and as GDI lifts Danielson into the air – CM Punk comes down the ramp.
It's a spot we've seen before – Bret standing on the ramp, forlorn, as Owen held the belt – Chavo then repeated the spot with Eddy a decade later.
Here, Punk lost the belt to Nemeth cashing in his briefcase, then never got a rematch – and tonight he suffered a really hard to swallow defeat to Cena in front of the returnees. Danielson and Punk have never been friends, Punk has showed time and again that he has changed and can be trusted, they have finally achieved an uneasy peace – but now here we are, the returnees part as Punk hits the ring and Danielson is let off the shoulders of GDI. They go nose to nose – the champ and the former champ – two allies – and Punk extends his hand.
Danielson takes it – the two men hug – Punk then steps aside and claps as Danielson is again raised in the air, lifting the title belt high, as the show ends.
I'll be back in February with the
Road
to Wrestlemania 28.